Directory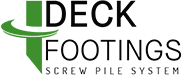 Deckfootings.com

Decks/Fences
About
The staff at deckfootings.com have over 25 years experience installing deck footings of one kind or another.
Helical piles (or screw piles) are the easiest, fastest and most economical way to support your deck, sunroom or home addition.
We believe in building structures that stand the test of time. That's why we incorporate helical piles into our designs, to ensure that any structure we build is anchored down and has a strong foundation to stand on.
Simple, economical and efficient. Start off on the right footings.