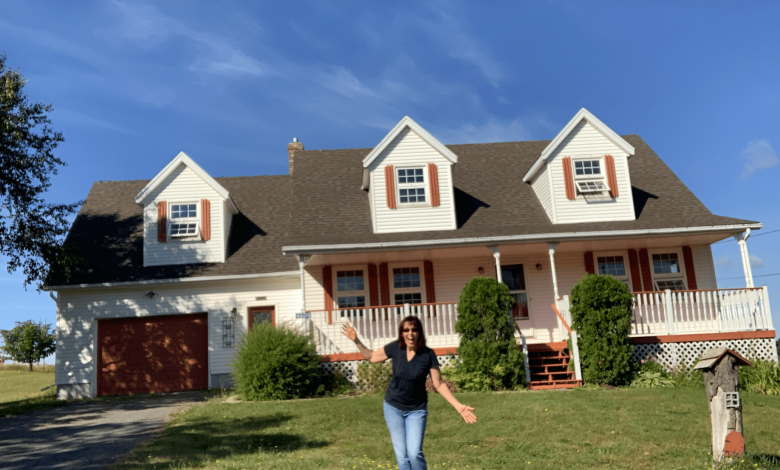 I know, you read the title and think it can't be done. You are saying to yourself,, Sue you are dreaming, there is no way to furnish an entire 5 bedroom home for under $1000.00! I am here to say, yes you can and I will share with you how we did it.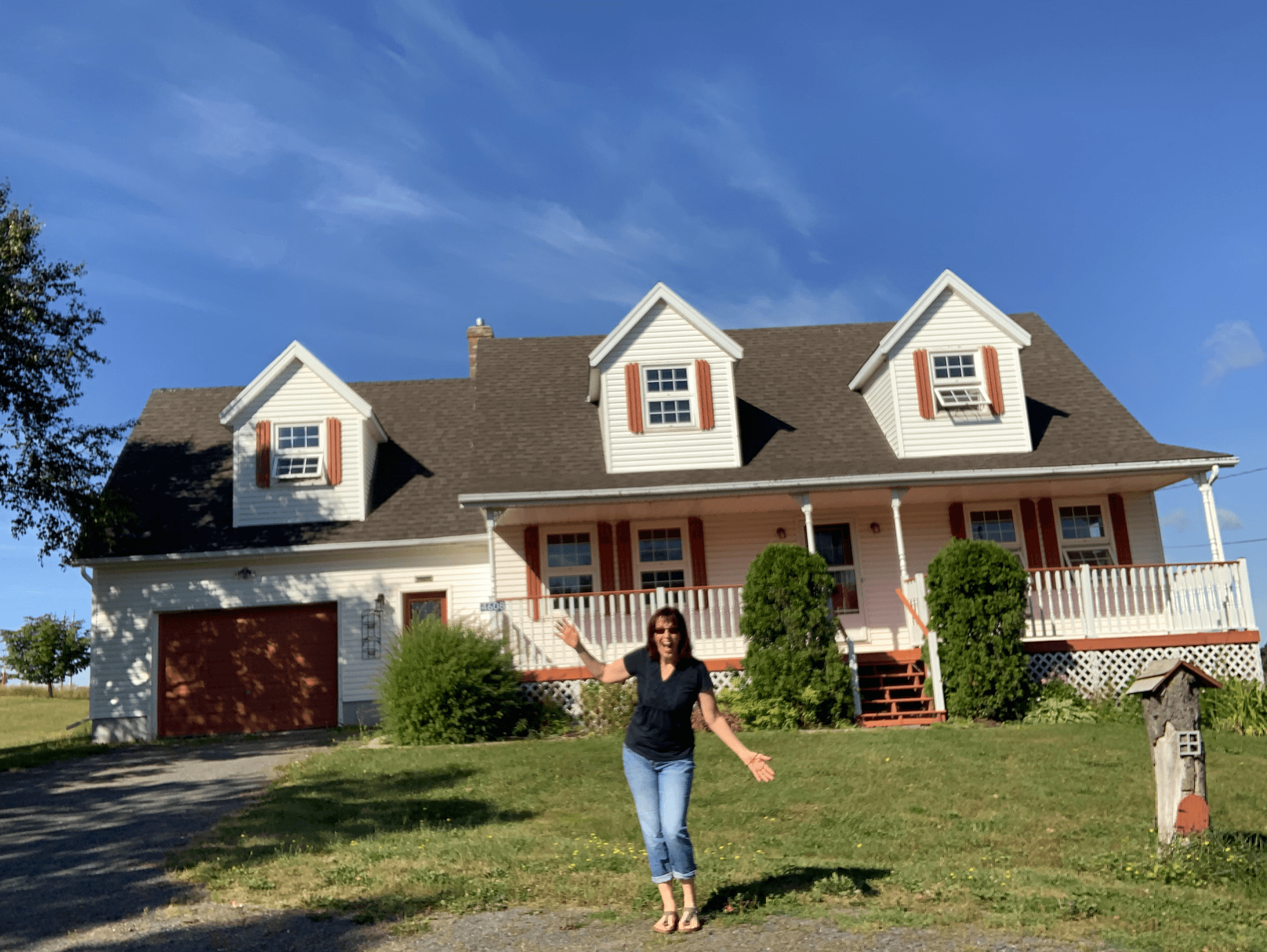 You'll learn how we decorated her home virtually, but also about the wonderful journey of how Kris was able to furnish her home for less than $1,000 — and discover her style along the way.
It started with a phone call. Kris was a previous client of mine from Durham, who called to tell me she had bought a home on PEI. . She had a big life change and wanted to start fresh. She wasn't kidding – she had a bed, TV, desk and computer. That's it.
She was excited, but very overwhelmed, as she was literally beginning with an empty house. She had so many questions rolling around in her head. The biggest one was, how was she going to furnish her home and what would it cost? Next big question, what was her style?
She was also worried that I would not be able to help her decorate since I am in Ontario, hundreds of miles away. No problem, I told her. We could do it virtually and we would go on the journey of finding her style together and create a home that totally reflected her personality.
I looked forward to the months ahead. She, however, couldn't imagine her home filled with furniture and items that she loved. She put her trust in me, which I very much appreciated.
Follow along on her year long decorating journey and see how finding her style
brought her joy, peace and a beautiful home all for $1000.00!
Where to begin? So much to do!
Once Kris had moved in and had a chance to breathe, we had many conversations about the big task ahead. She couldn't get her head wrapped around furnishing her empty home without a big budget and without knowing what to buy. Our plan was created. She would scour Facebook Marketplace, yard sales and thrift stores and we would furnish her home literally $20 at a time.
Like most homeowners, she thought that to furnish her home and have it look stylish, she would require a big budget. Not true! She had a lot of patience, a computer, a car and was totally up for the challenge.
Get a sense of some of the spaces we were working with as we began shopping and pulling things together.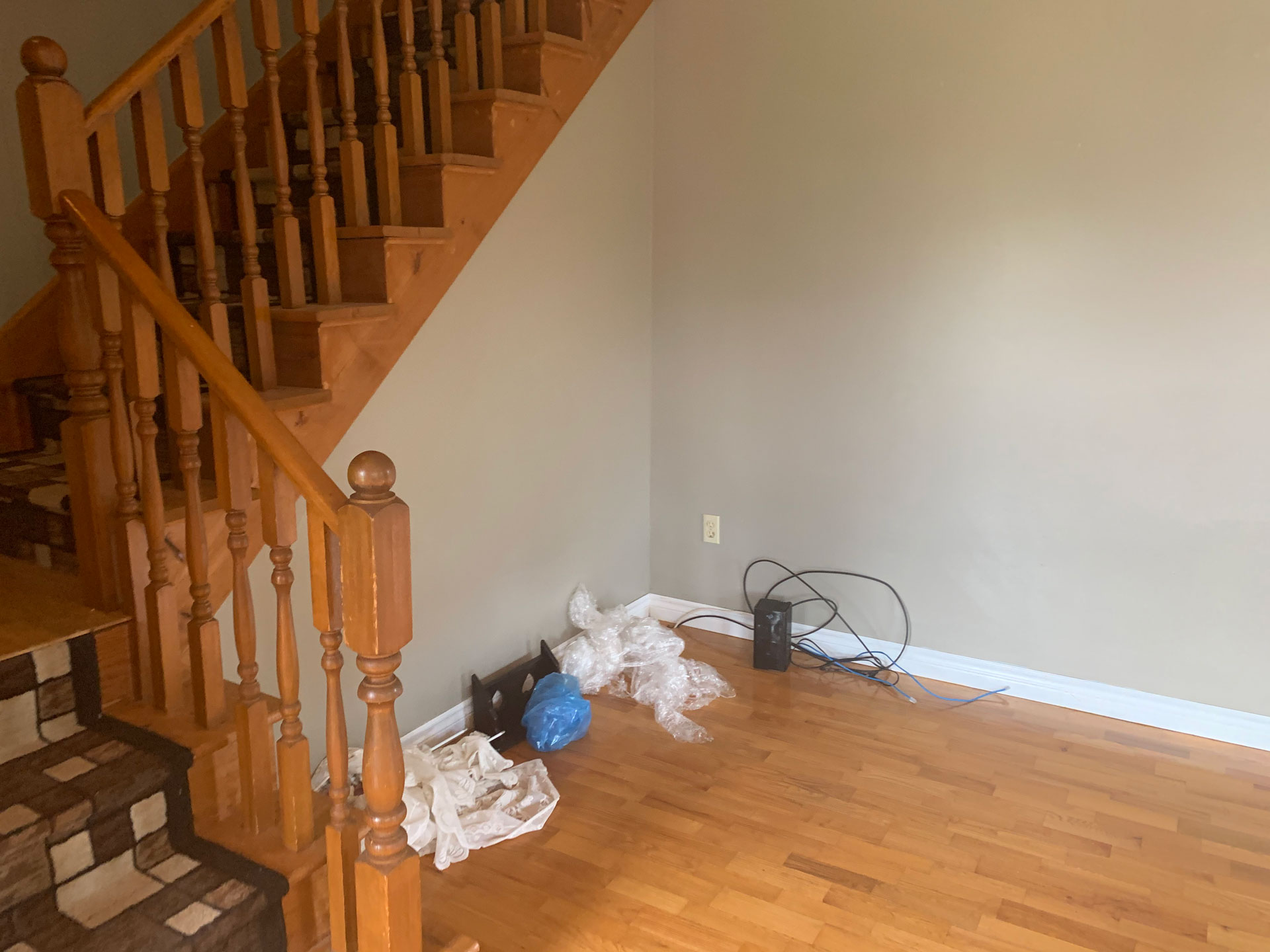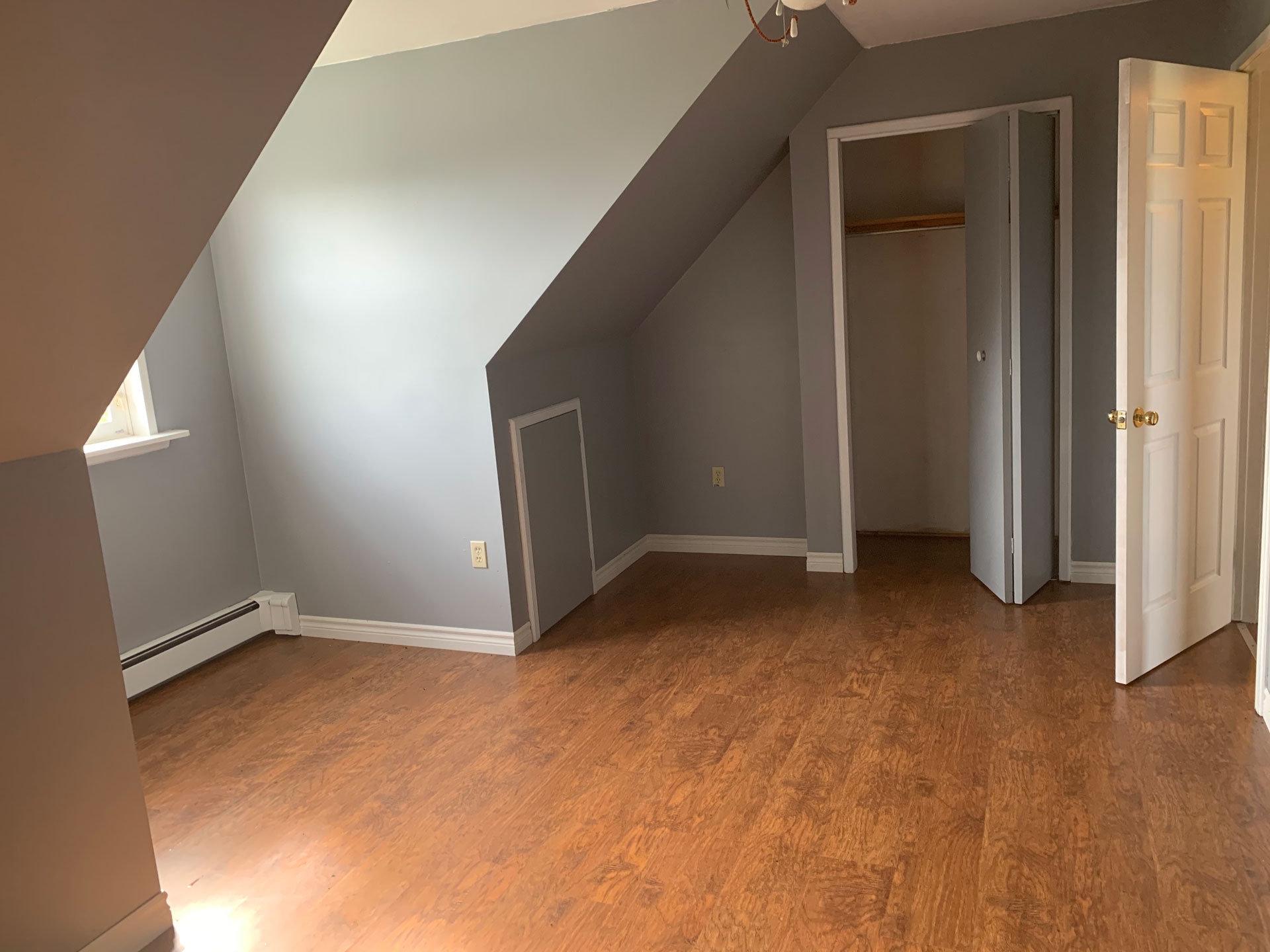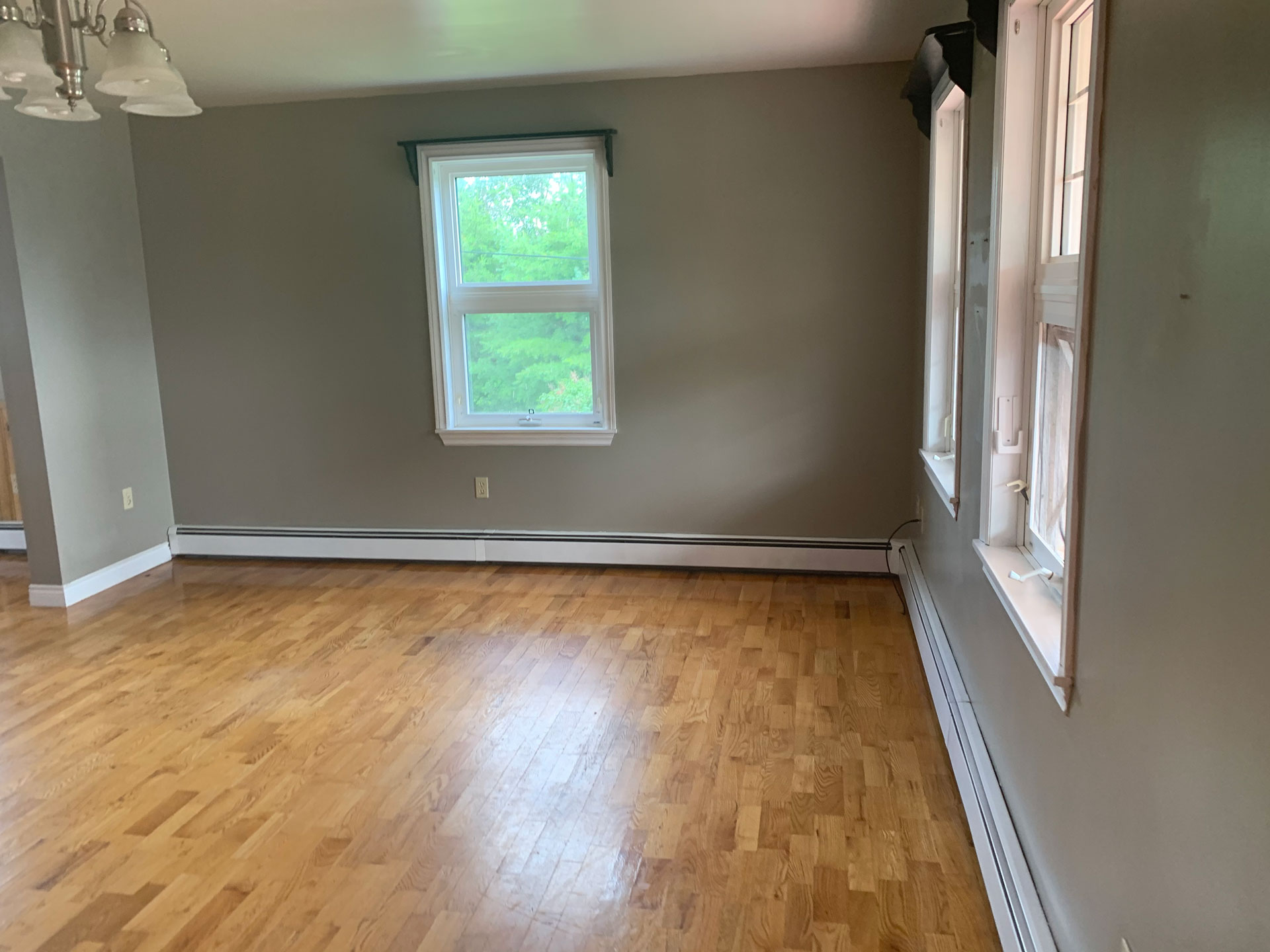 In our discussions about her vision for her home, Kris was totally confused about her style and what she liked. She had no idea how she wanted the rooms to look, all she knew was that she was really stressed out trying to figure that out! Our plan was to take each day and each piece at a time, to curate the perfect space for her, within a year's time. We had our work cut out for us and we were going to accomplish this virtually!
Kris had some research to do, figuring out where the thrift stores were, joining Facebook Marketplace and keeping track of all the yard sales around PEI. Her and my weekends would be busy with texts/photos and videos of potential "finds" for her home.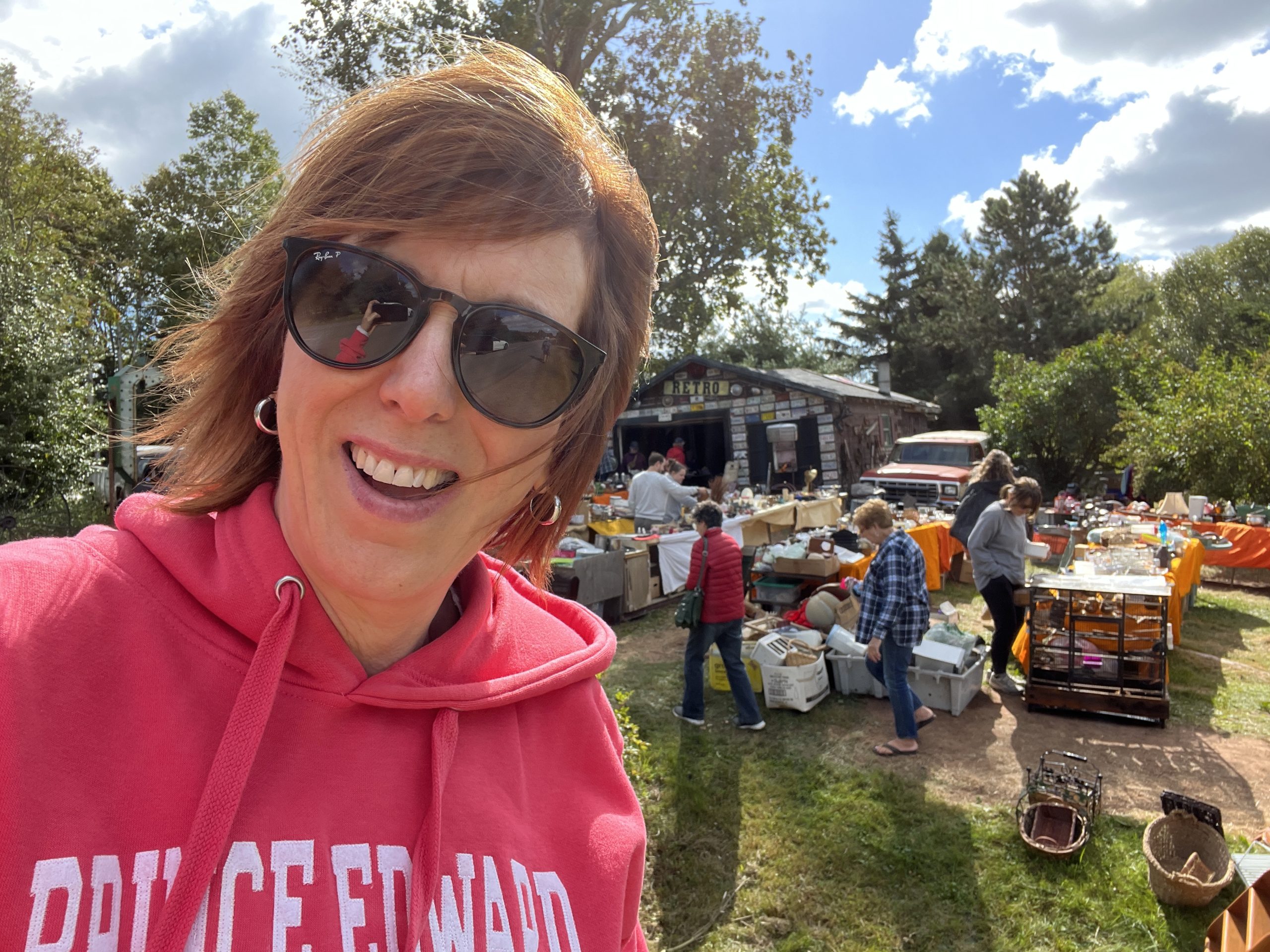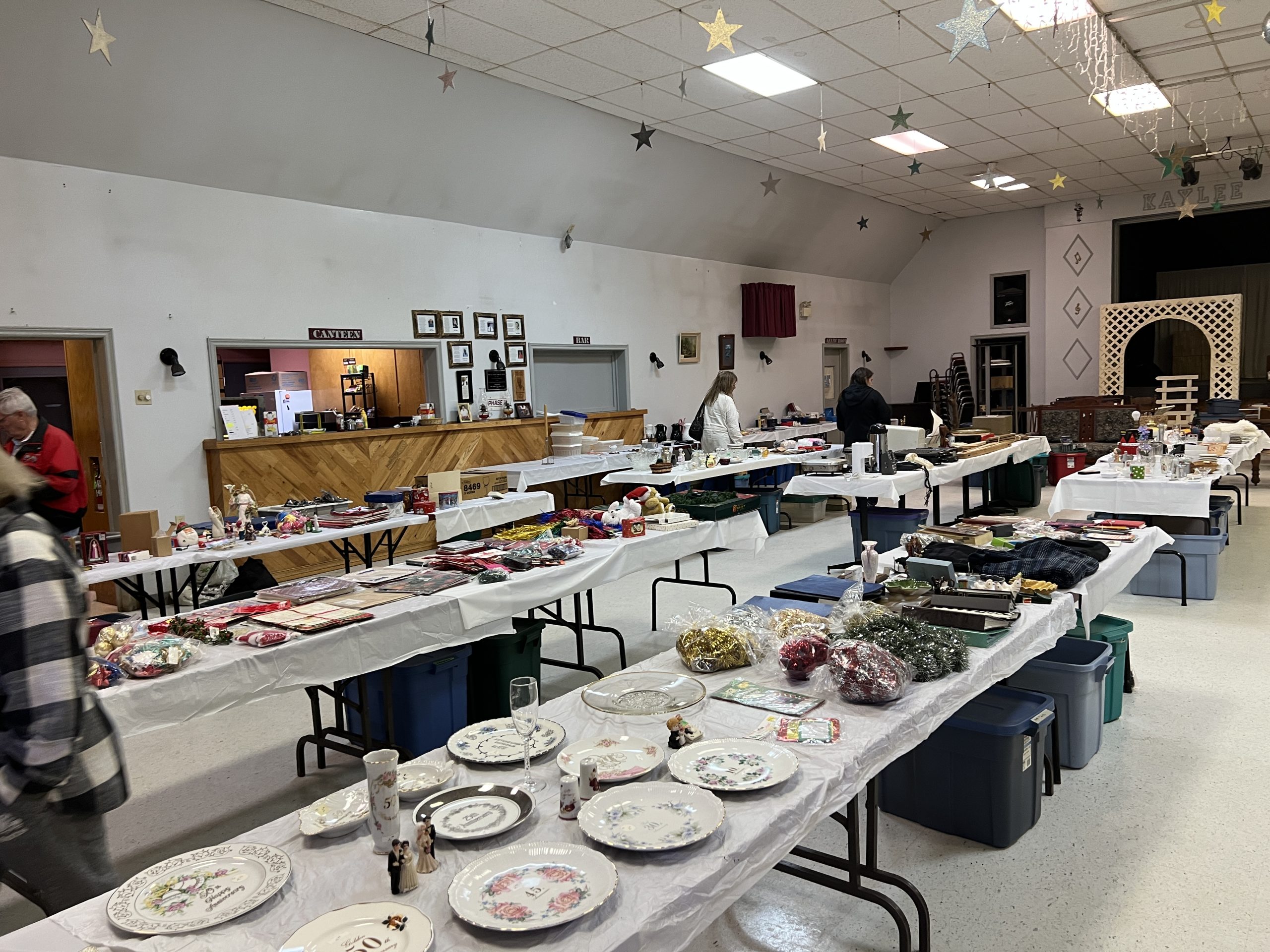 I invited her to open up her mind to new ideas, new ways of looking at pieces and to the idea of repurposing and painting her "finds". She was game. She had never painted a wall before, let alone a piece of furniture. This was going to be an eye opening experience for the both of us.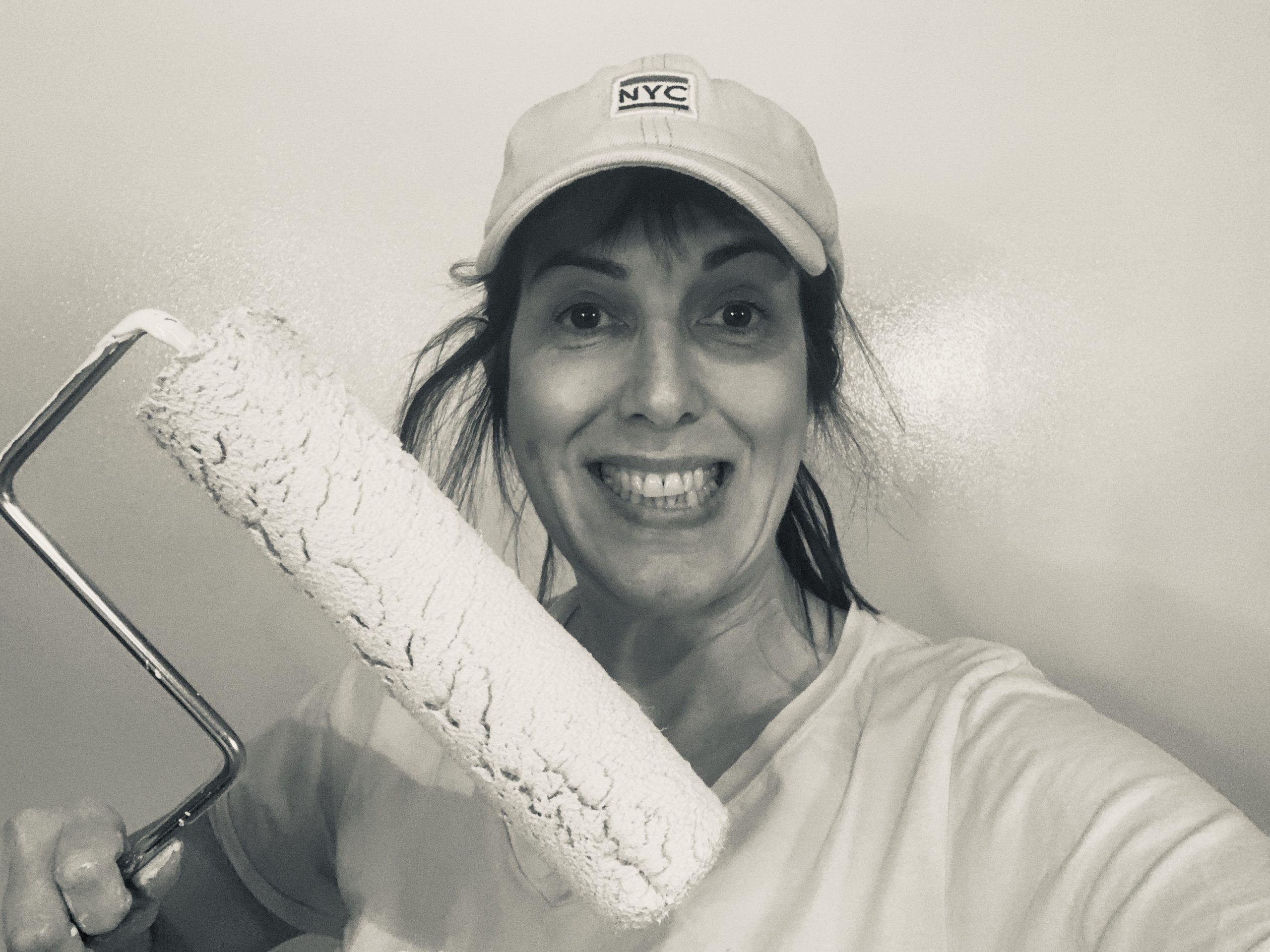 A wing chair, vintage dresser and retro suitcase table was the foundation for her reading nook. Wreaths from the Dollar Store outlined with a vintage frame and unique pieces of pottery finish the look: simple, yet stylish.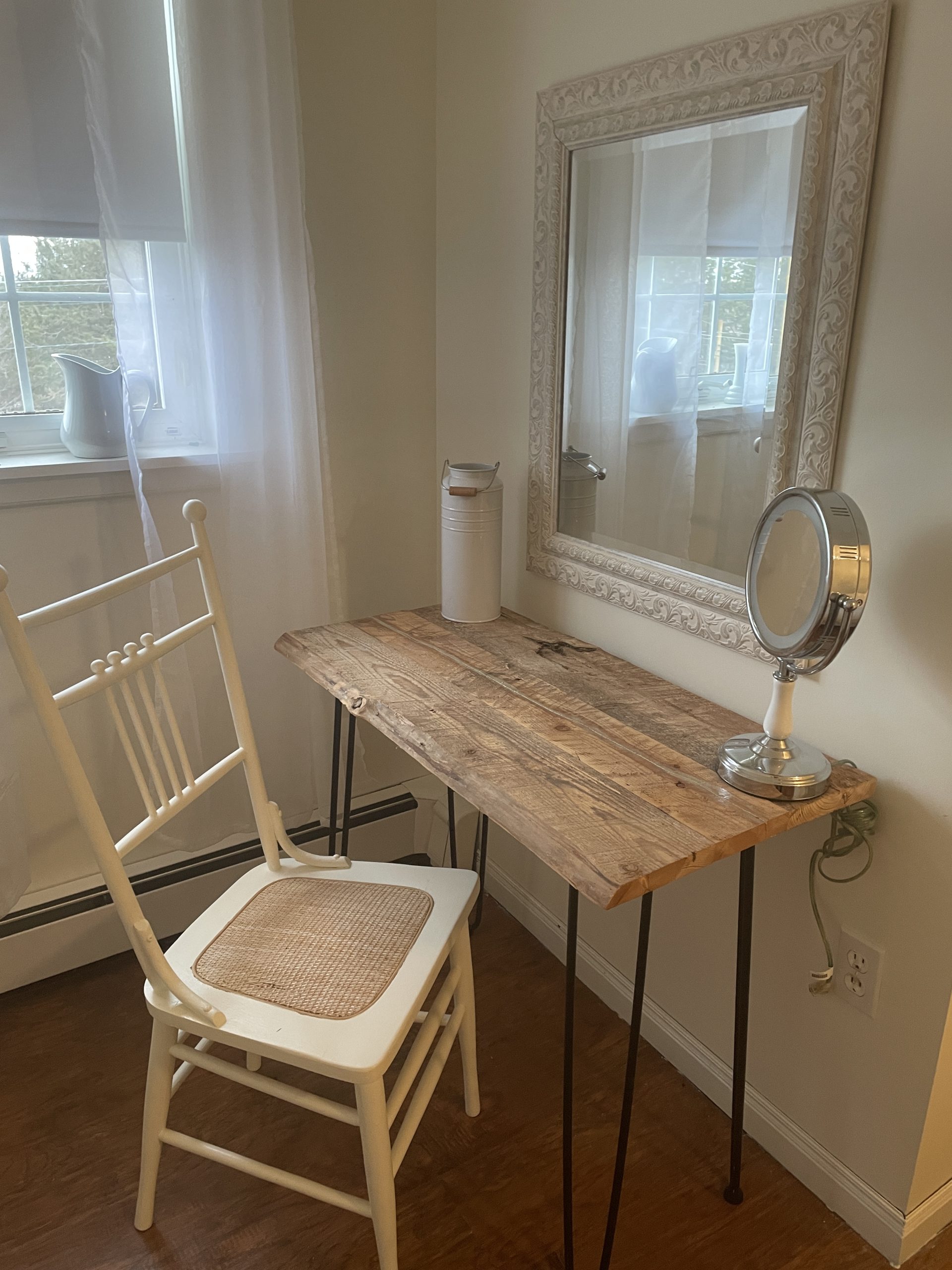 We arranged the TV on top of a vintage dresser, which was also extra storage. A rug, loveseat and coffee table were added. A large basket holds extra throws. Another chair and ottoman were angled for extra seating.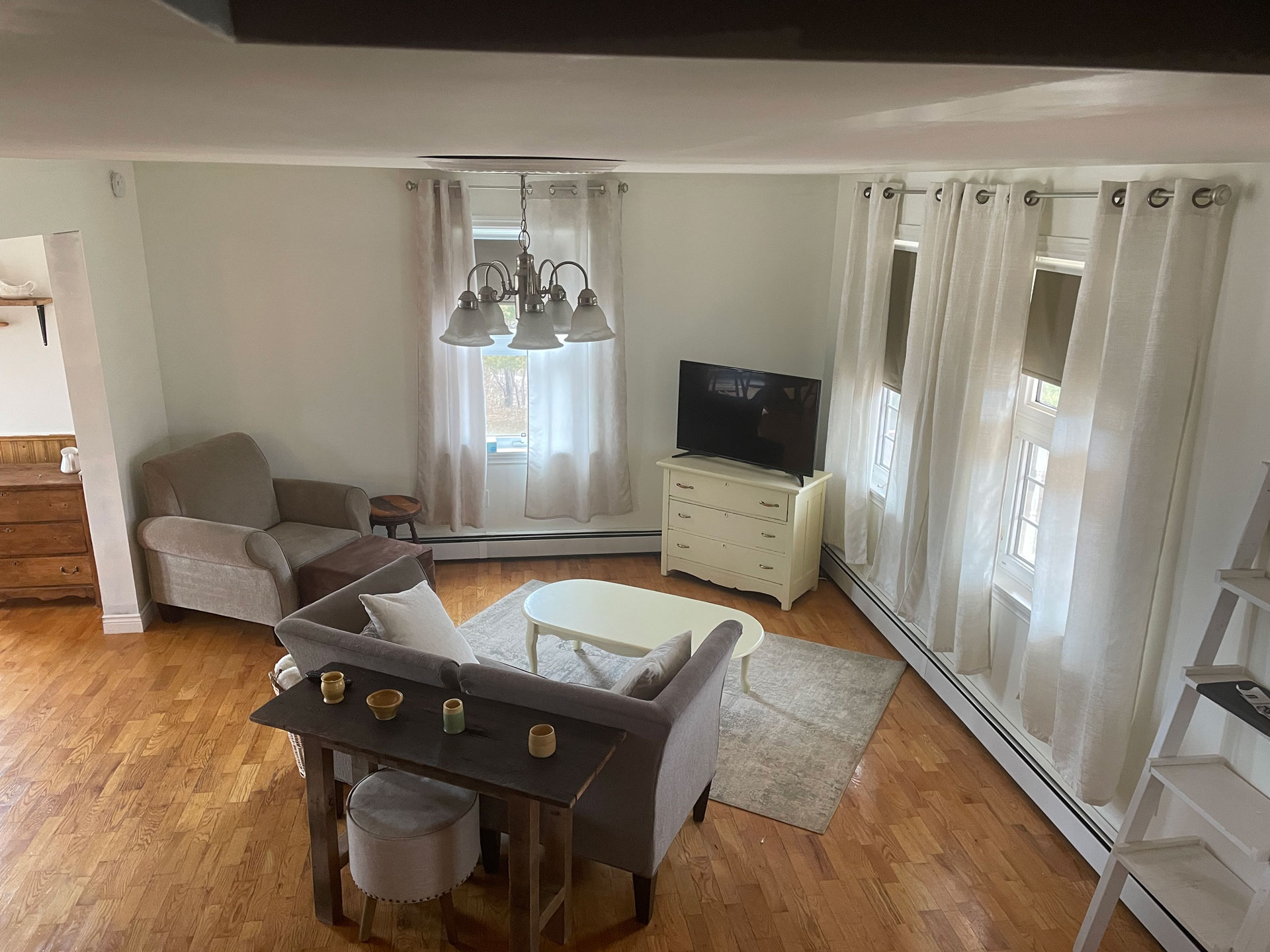 Her dream was to have her own dressing room, so we converted one of the bedrooms. The white pieces she picked up at yard sales, the wicker chair was free at the side of the road and the rug was added. All accessories were purchased at thrift stores. A perfect space for her to get ready for the day!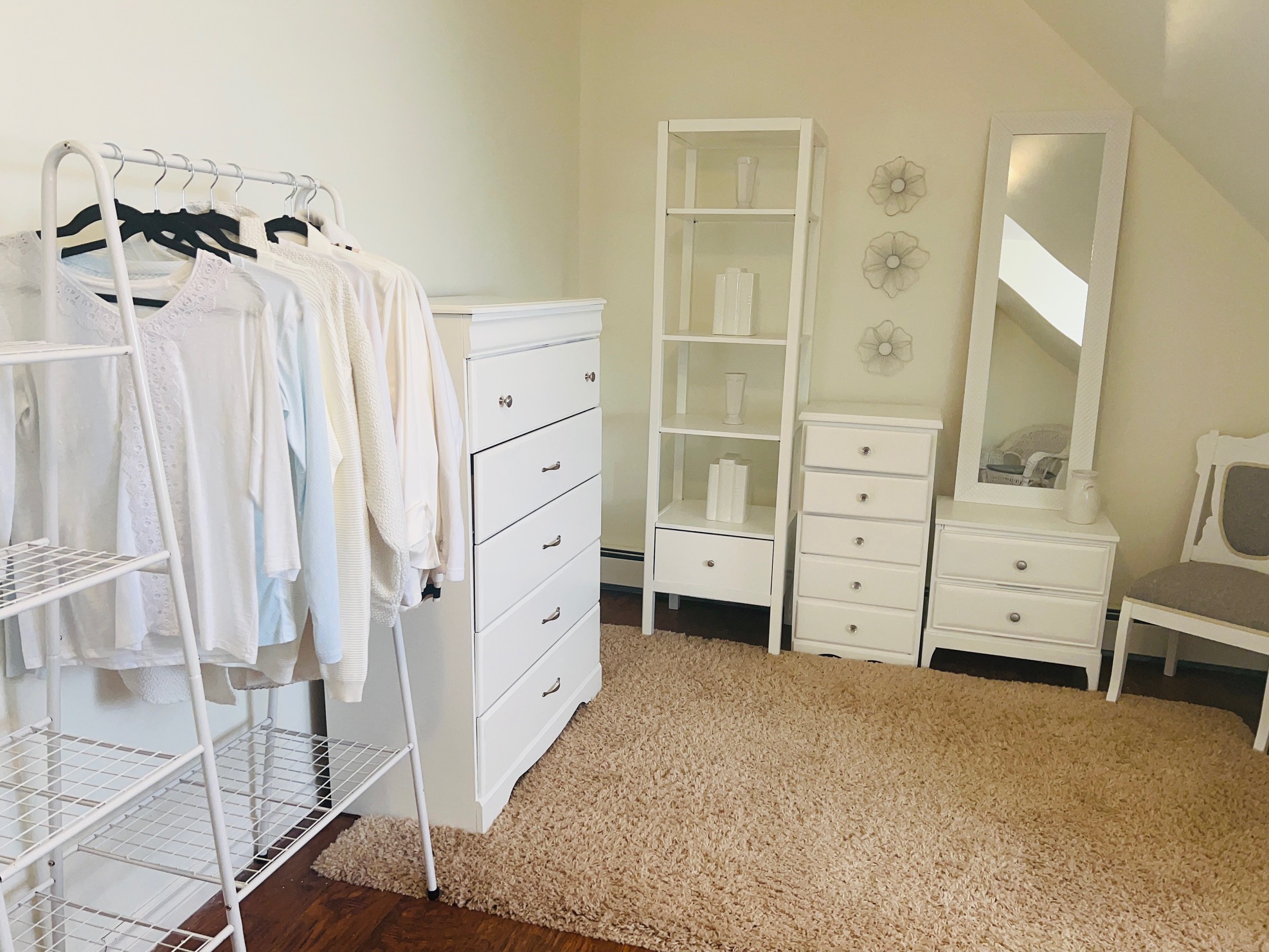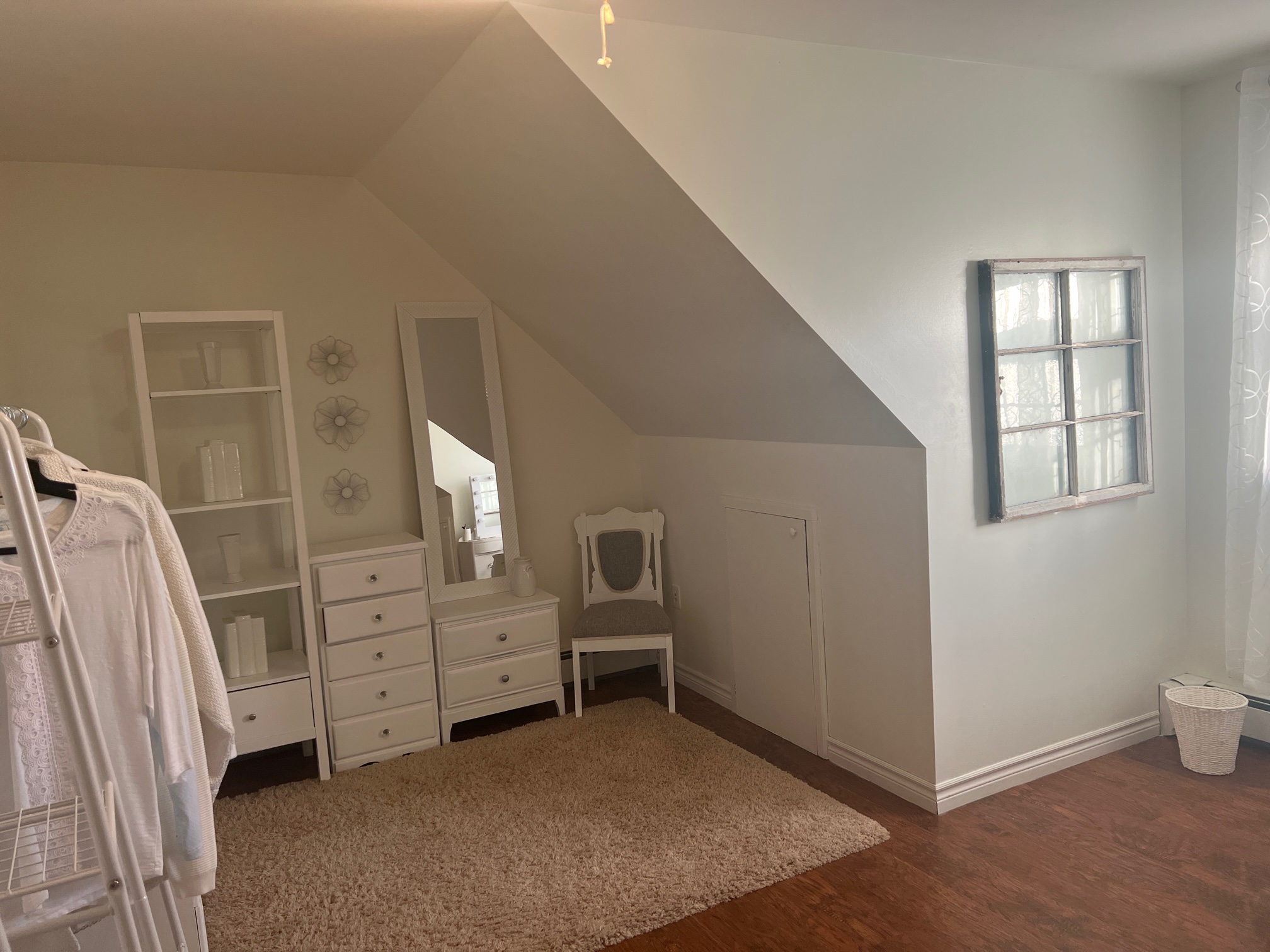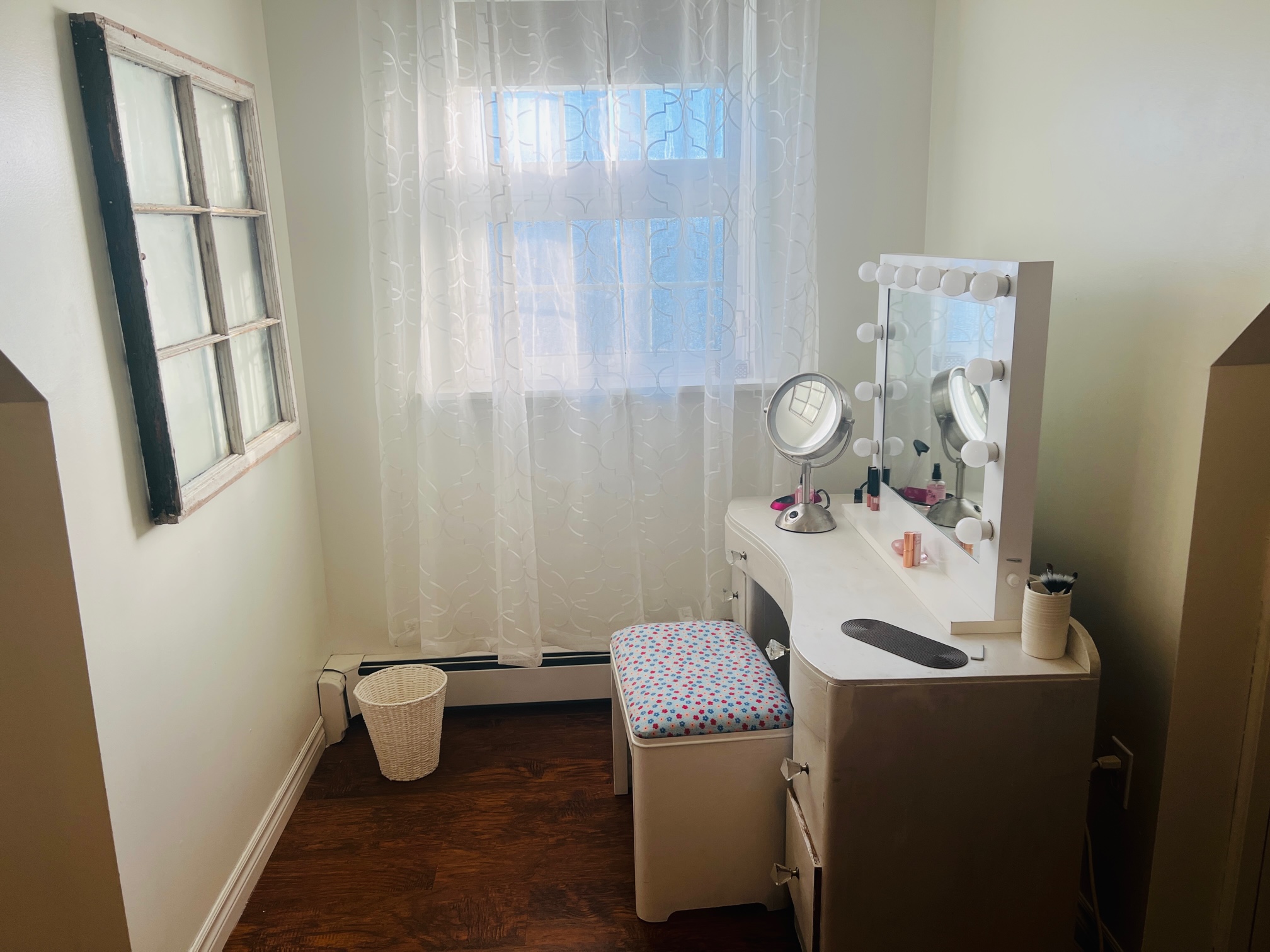 She wanted to create a guest room where her guests would feel welcome and comfortable. Once she saw the room come together she was thrilled and knew that her guests would love it.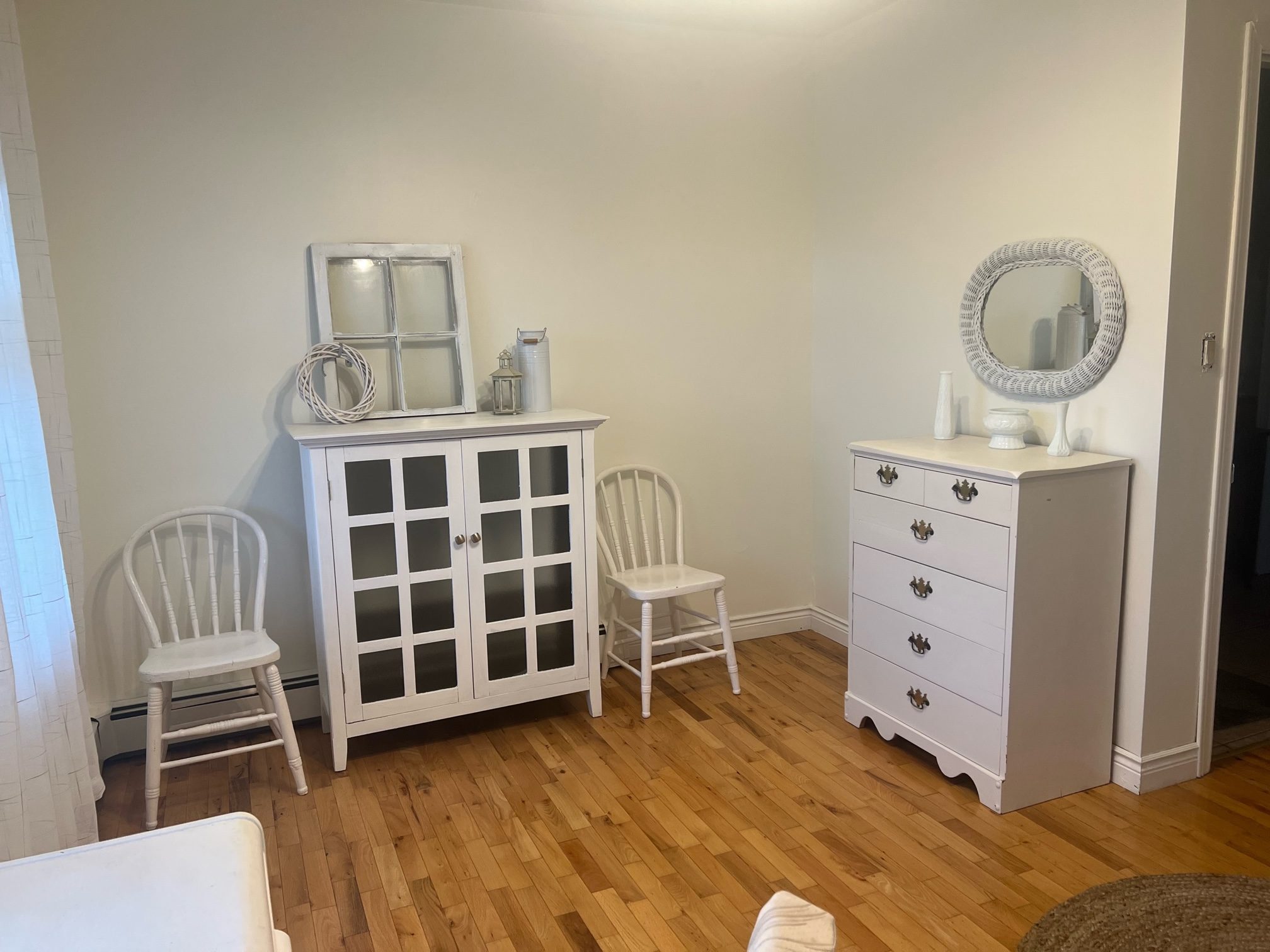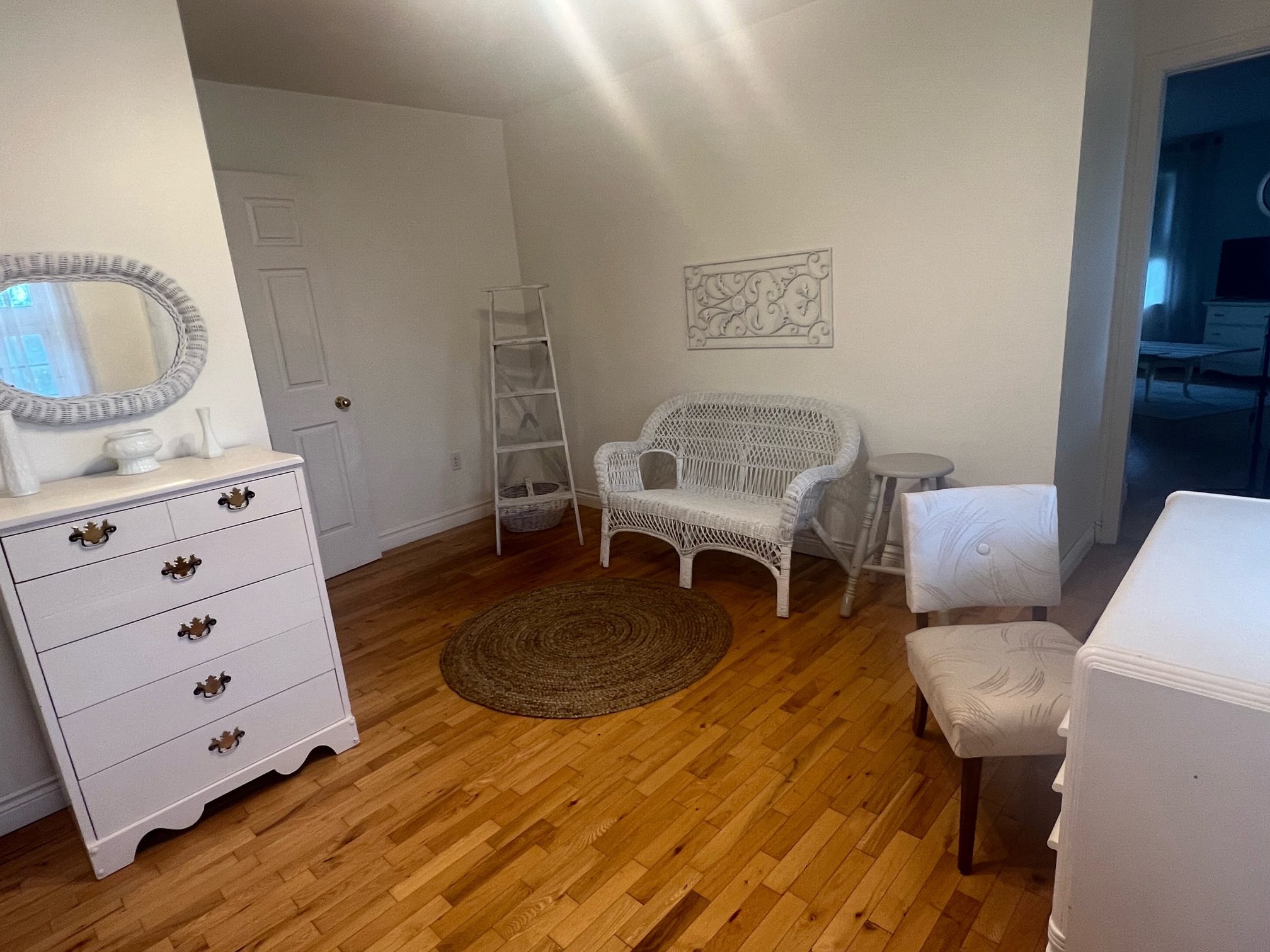 Her main floor retreat space came together perfectly! One item at a time. She loves spending her down time here.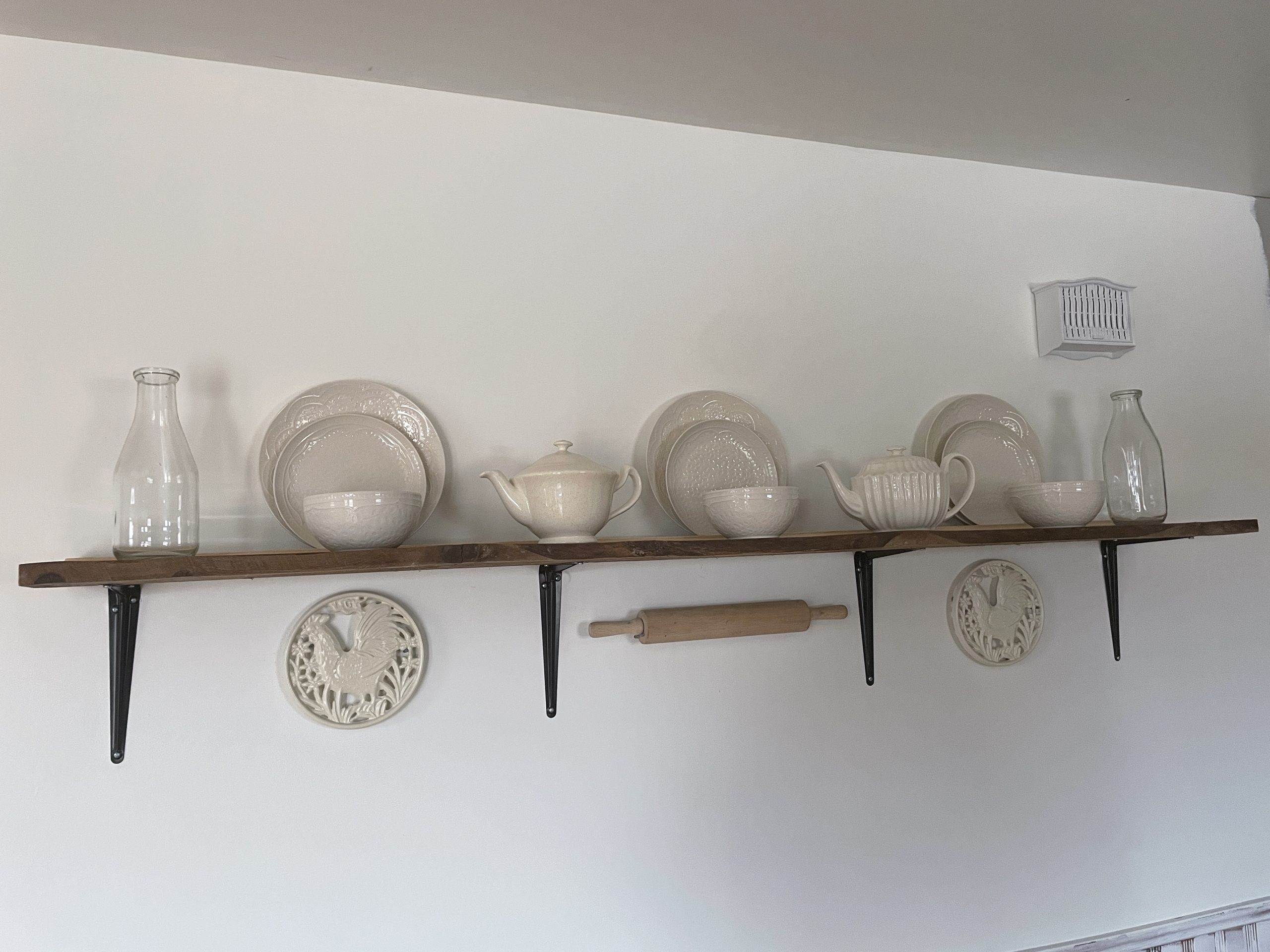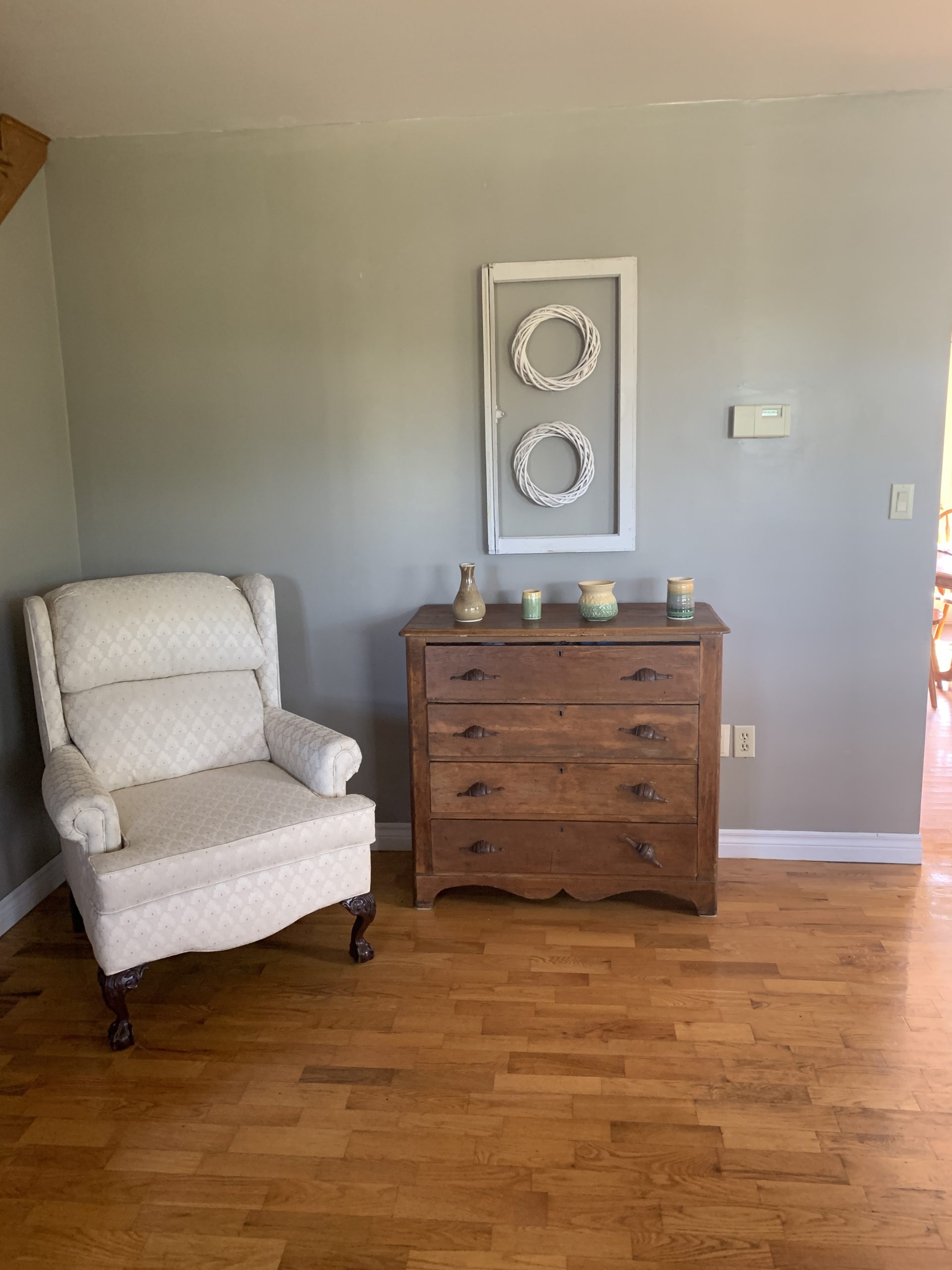 Barn doors found in an old barn. Here's how we used them.
Barn door table in living room
Barn board pieces made into perfect shelves for the kitchen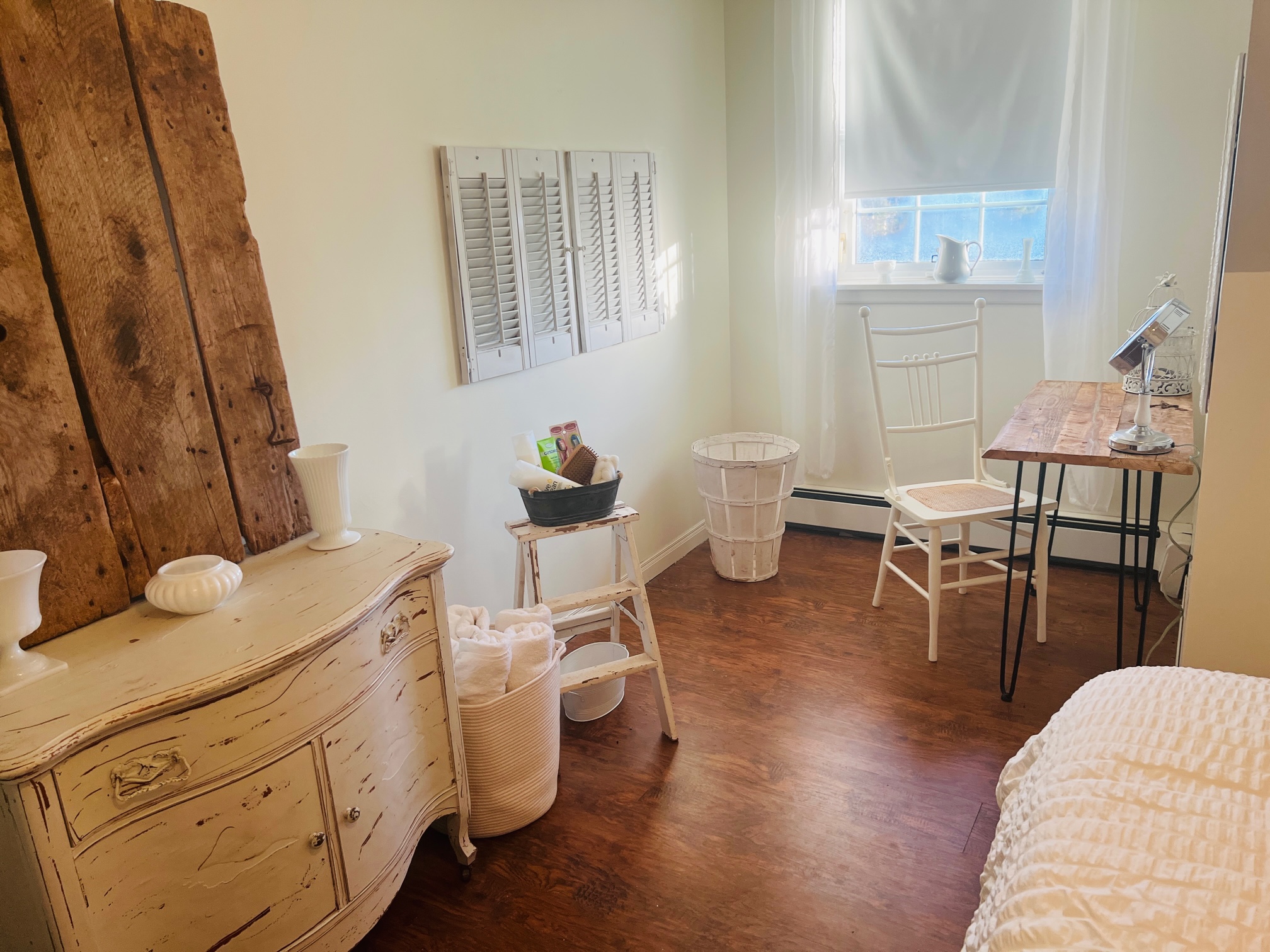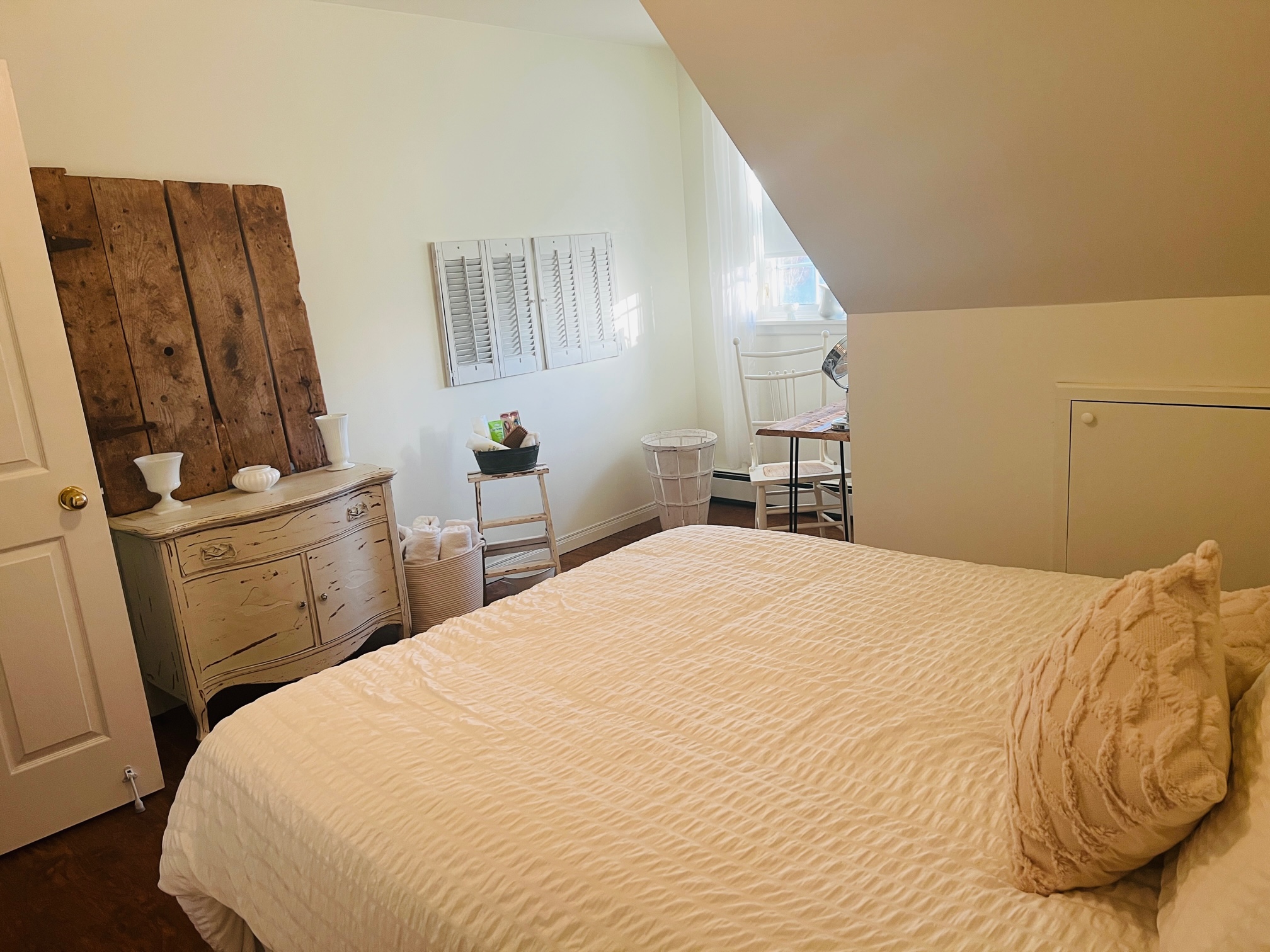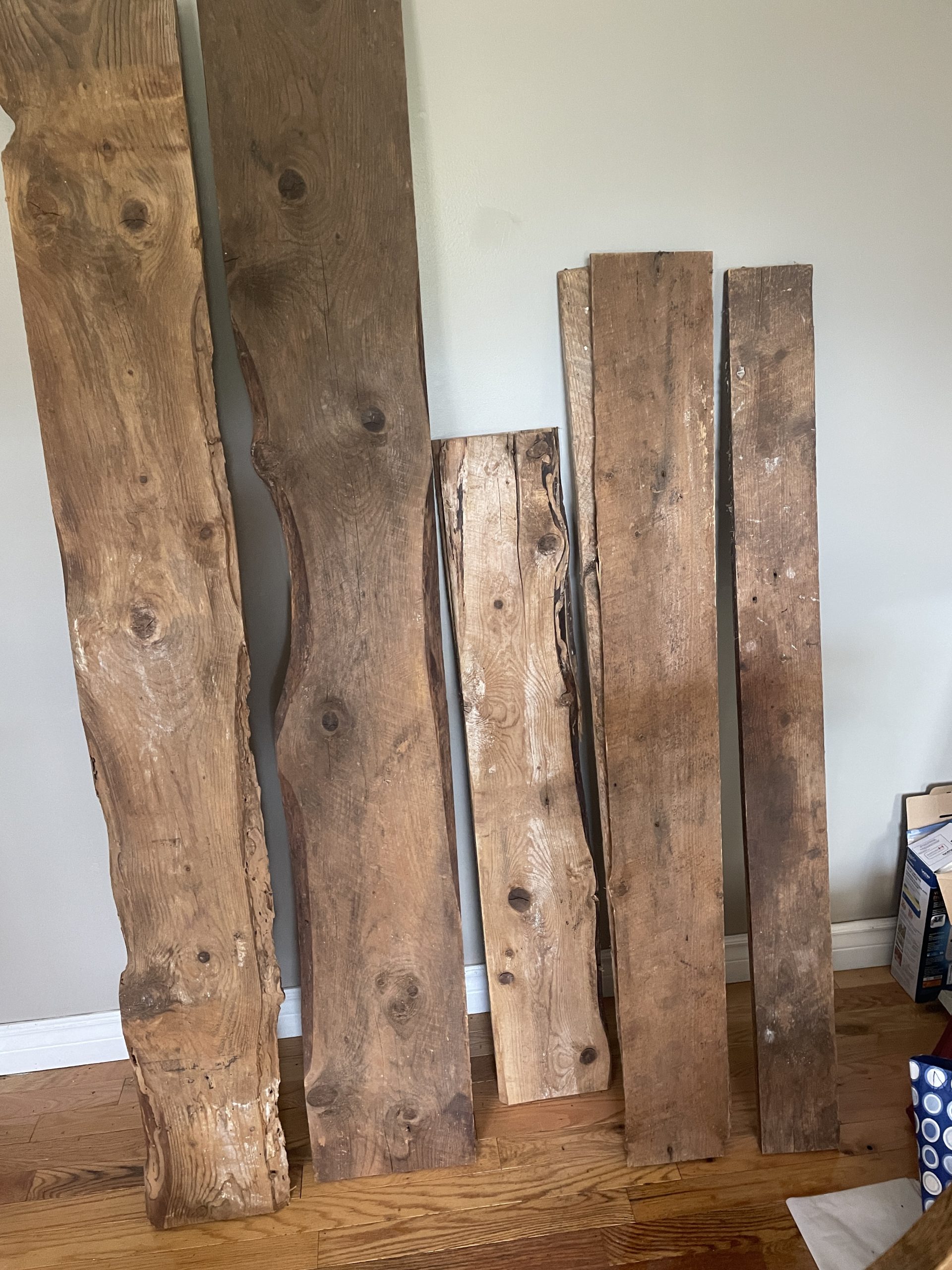 We added hairpin legs to a piece of barn board and voila, a unique table for the guest room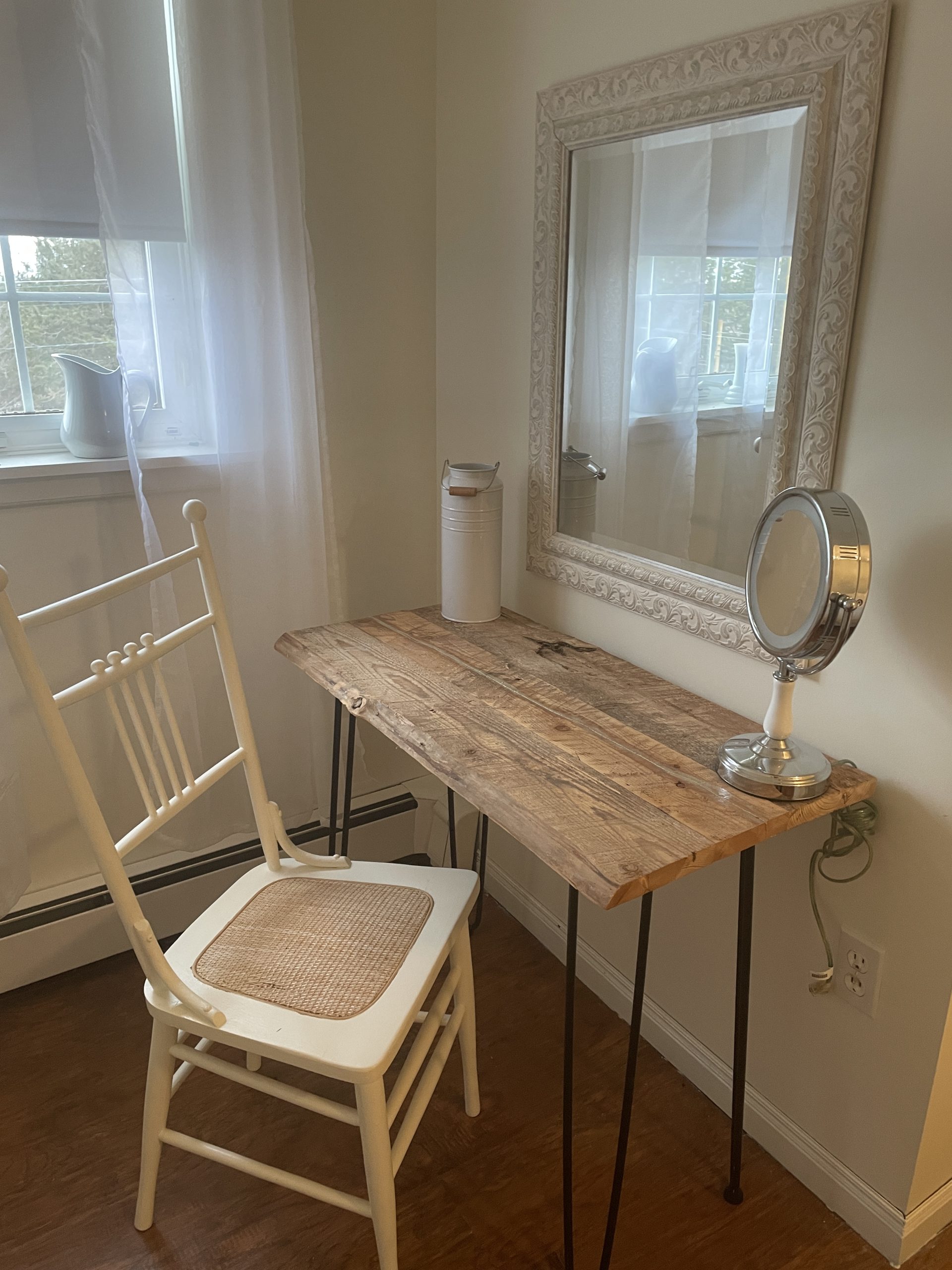 As you can see, her home is filled with unique pieces that she loves and she is so proud of how it all came together. In her mind, she has the house of her dreams!.
I hope that you were inspired and realize that having a beautiful home doesn't necessarily equate the amount of money that you spend.
My design mantra is " Surround yourself with things that you love and you will love your home".
Happy Decorating!
Sue Pitchforth